In December 2018, a combined two-day workshop on 'embroidery and quilting' was organized by the Modefachschule Sigmaringen in Germany. This was the third time the workshop was organized for students of the fashion school. The aim was to develop new interpretations and applications for industrial quilting and embroidery.
The workshop was led and coached by Nora Kühner, a designer and colour and trend expert, specialized in industrial quilting and Reiner Knochel, embroidery and textile decoration expert. Jutta Erb was in charge of digitizing the embroidery files and supported the students during this task.
At the two-day workshop, the students were assigned the task of designing a finished garment. They had to use several quilted fabrics that had been donated by the Austrian quilting company Polyfil. They also had to decorate the fabrics and garments with highlighted seams, decorative seams or embroideries for which they had to use effect threads from the company Gunold GmbH.
Creative surface decorations
The main aim of the workshop was to provide students with the opportunity to experiment with creative surface decoration possibilities through hands-on practice. At the moment, the huge potential of techniques is barely explored. After having taken part in the workshop, students had overcome inhibitions. The experience they gained will be of great help in their future professional work.
The textile industry is transforming. Many trademark manufacturers in the fashion and sports industries have to redefine themselves. Manners of social interaction and communication between national and foreign manufacturers are undergoing changes as well. Production series are getting smaller and at the same time increasingly customized and more specialized. Decision makers in design and development need to make clear provisions. Experience gained in practical workshops is of help when having to negotiate. It will also increase self-confidence.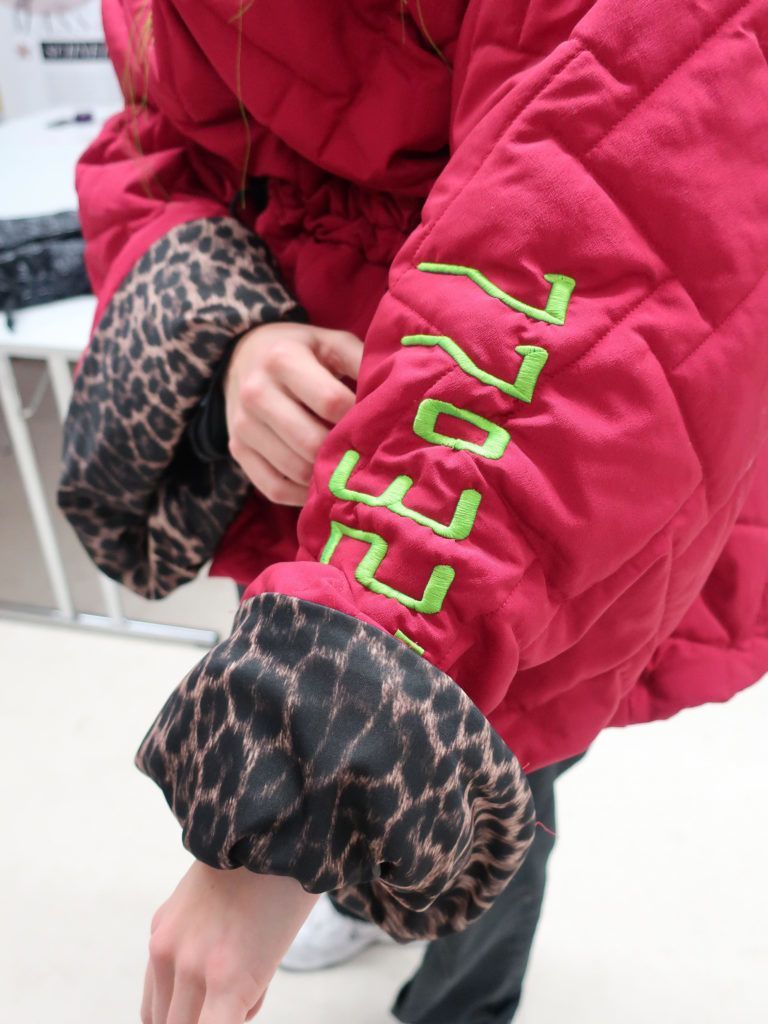 Because of the way of working, the participating students at the workshop had to face various challenges. To start with, they had to figure out how to work with the thick, padded and structured fabrics that require a completely different handling than most other fabrics do. The volume of the materials asked for a completely different pattern making approach. For instance, patterns had to be considerably larger and wider seam allowances were required.
Secondly, students were not used to processing embroidery and effect threads on industrial sewing machines. When they had to try out neon-coloured embroidery threads for accents and shining metallic effect threads for highlighted seams on various industrial sewing machines, many students were taken by surprise when first glitches and trials went wrong. However, after a couple of trials and adjustments of the sewing speeds and thread tensions, they came up with some very interesting, attractive and industrially applicable results.
A number of students were already familiar with embroidery, which they owed to the school's own embroidery machine and the courses on embroidery and digitizing that the school has on offer. Still, when they had to apply embroidery on padded fabrics, they learned that there were some important aspects to consider. For many students it was interesting to see how densely woven outdoor fabrics that are often used in industrial quilting applications behave when used as embroidery ground. In order to prevent distortion and cockling, they had to avoid using short stitches and the embroidery density should be rather loose.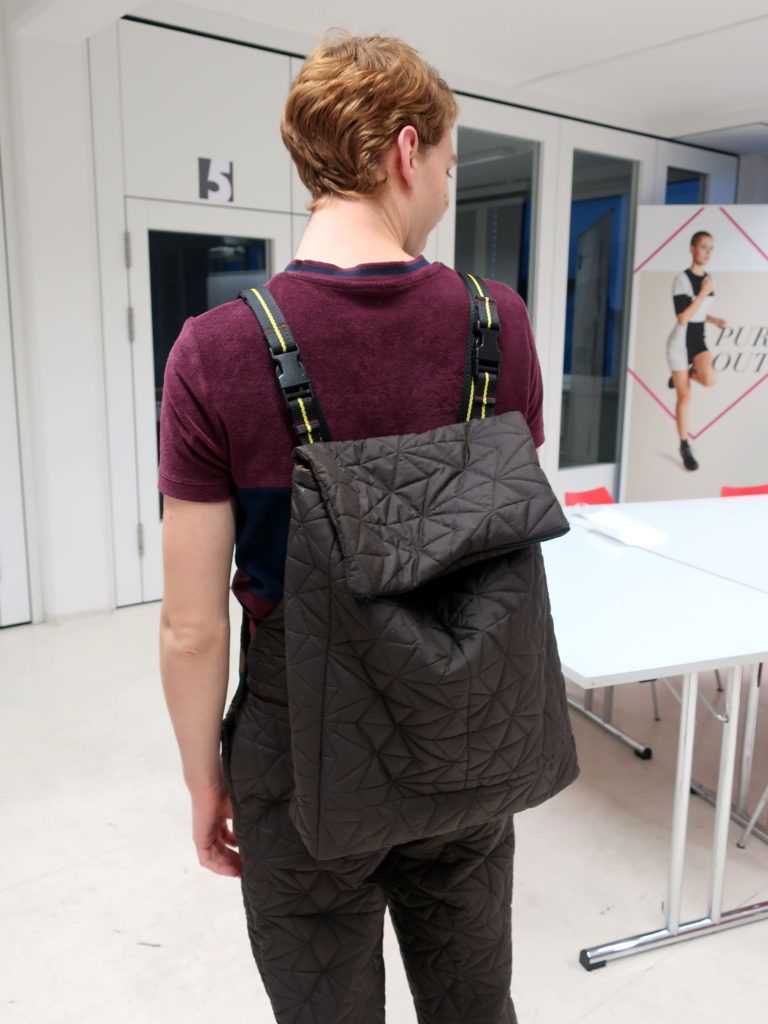 Lastly, in a standard curriculum, students work within strictly specified and exactly defined frameworks. During this workshop, however, they had the opportunity to create their own designs and to execute them following their own preferences. On the one hand, they experienced this new liberty as exciting and fascinating. On the other hand, however, this freedom asked for clear ideas and concepts. In order to execute their ideas, they often had to make concessions or rework the designs several times, sometimes in collaboration with the coaches.
This was where the advantages of having experienced industry experts for coaching at hand paid off. The coaches were able to support the students, help them find solutions for processing problems and encouraged them not to give up when problems arose.
The hard work during the two demanding days resulted in individual creations that were worn and shown with pride. Even the first-year students were able to finish their garments within the time allowed. They were pleased with the results and proud of having sewn in their first zippers or of having constructed their first hoods.
Each garment had its own unique design language. Inspired by examples and trend information from both coaches, the students created garments that crossed the limits between fashion and sports and that combined function and aesthetics in an innovative manner.
The garments that were created during the workshop were presented in a number of trade shows, such as the Munich Fabric Start, ISPO Première Vision Paris and Performance Days München. For the students, these trade shows offered them unique opportunities to present themselves and show their talents.
Photos: Reiner Knochel
Stitch & Print International appears four times a year. In addition free digital EMagazines and newsletters are published. The trade journal is written for professional embroiderers, textile printers (screen printers and digital printers) and garment decorators.
Stitch & Print International appears four times a year in print. In addition free digital EMagazines and newsletters are published.
Follow us on social media
for daily updates