More focused, more sustainable, but above all: safe. From 12 to 14 January 2021, PSI, PromoTex Expo and viscom will once more take place under one roof in Düsseldorf, Germany, bringing back together the promotional product and textile and finishing industries. This time, the shows will not be allocated their own halls. Instead, the halls will be filled with a variety of theme islands.
The shows will offer a fresh hygiene and safety concept. As well as having a well-conceived guidance system, the concept will use safety rules that are already familiar from the retail trade: keep your distance, pay attention to hygiene and wear a mask.
Petra Lassahn, director of the three trade fairs says: "We are currently developing new digital solutions that will provide many opportunities for those visitors who cannot make it to Düsseldorf next January. Among other things, the new concept includes exhibitors' specially prepared product highlights. Events will also be streamed. Another new event is "video matchmaking", which the fairs will be using to bring both exhibitors and visitors together live."
At PromoTex Expo, the focus of attention will be on sustainability even more. Centrepiece will be the Textile Campus in Hall 11. This is where information, networking and education relating to climate protection in the world of textiles will all come together in one event. You will be able to learn more about new strategies, trendsetting concepts and innovative projects for responsible action from real-life experience. You will also learn how textiles and clothing can be produced more sustainably while still gaining a foothold in the marketplace.
The first thing that you will encounter in the entrance area will be the PSI Product Presentations, showcasing the latest innovations, custom designs, top sellers and the most sustainable products made by the promotional product industry. You can vote for your favourite product. The products that have received most votes will be announced on the final day.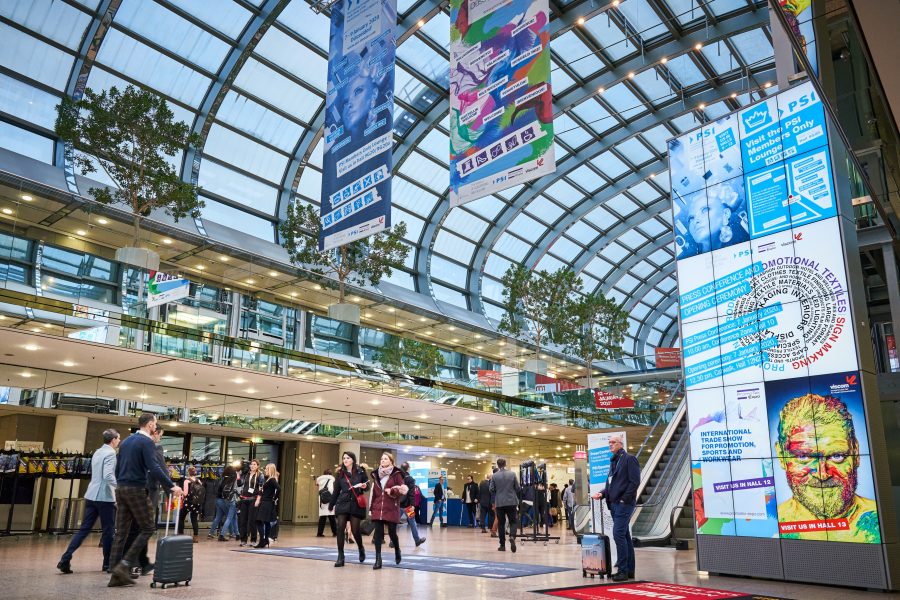 The PSI Newcomer Area, which in 2021 will have been moved to Hall 9, will provide fresh impulses, unusual ideas and brainstorming products. Here you will find exhibitors who are here for the first or second time as well as inventors with new ideas for shaking up the industry. In the adjacent hall you can taste and try things at Gusto. This tasting area in Hall 10 will again include promotional products that appeal to the senses. You can be sure that all hygiene standards will be met.
At this 2021 fair, the PSI Sustainability Awards will be presented for the very first time. The green trophies will be awarded in Hall 10 during the course of the event.
Ideenschmiede (ides foarge)
Over the last few months, advertising technicians have led the way and have developed ideas for preventing infection by creating barriers, distancing markings, one-way systems and other products.
The special show "Ideenschmiede" ("ideas forge") in Hall 11 will take a look at some of these product ideas. Prime examples will show how advertising technicians can ramp up their portfolios in these difficult times.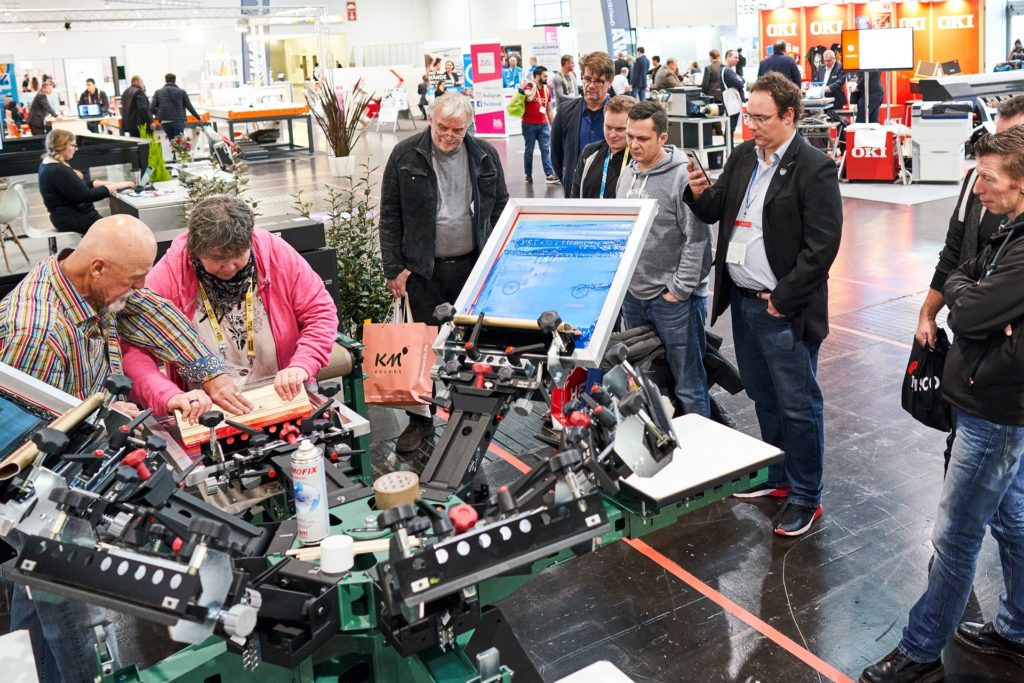 The special show "Make Your Shirt" inspired fair visitors in 2020 because of its DIY character. In 2021, the format will have been taken a stage further under the name "Fulfil Your Shirt", demonstrating the production process of a T-shirt from being given an initial QR code right through to being delivered to the customer. As well as granting the opportunity to create your own print motifs, the focus will also be on the industrial mass customisation of personalised textiles. Visitors can look forward to seeing how digital IT and shop solutions can be linked to digital printing.
Personal contact and training opportunities
You will have the opportunity of meeting business partners, investors, manufacturers or distributors in the Matchmaking Lounge in Hall 10. It is possible to arrange appointments beforehand.
In Hall 10, the Forum experts will be demonstrating how the Covid-19 pandemic has affected the advertising and textile industries and what new business models and the latest technical developments in the marketplace might look like. The latest topics concerning the industry will be addressed and discussed on stage. These events will be supplemented by a training programme offered in the Corel & Adobe Forum in Hall 11. Here, visitors will be able to discover everything concerning the latest software solutions and how those can be integrated into their daily workflow. Professionals will also be sharing valuable tips and tricks and are willing to answer questions relating to the various software programmes.
First Digital Friday
Visitors who have missed something during the fair or who are not able to make it to Düsseldorf can visit "Digital Friday". Here, all digital events will be available on-demand, including videos of the exhibitors and speakers. It will also be possible to use the digital networking and sourcing offers on the day itself.
More information about the three shows can be found in our online magazine 'PSI/PromoTex Expo/viscom' that will be published on our website on 14 December.
Opening hours 
12-13 January:  9 am to 6 pm 
14 January:  9 am to 4 pm. 
Location
Halls 9,10,11,12
Exhibition Centre Düsseldorf Stockumer Kirchstraße 61 40474 Düsseldorf
Germany
Stitch & Print International appears four times a year. In addition free digital EMagazines and newsletters are published. The trade journal is written for professional embroiderers, textile printers (screen printers and digital printers) and garment decorators.
Stitch & Print International appears four times a year in print. In addition free digital EMagazines and newsletters are published.
Follow us on social media
for daily updates