Multimedia designs with your embroidery software
Three of the most important aspects of a successful apparel decoration business are quality, consistency and creativity. Customers are looking for the same professional and unique results with every order they place. It is commonly understood that your embroidery machine and software contribute heavily to both quality and consistency, but they can also be great assets to boost creativity!
Innovations in embroidery software and machine hardware have made it possible to create multimedia designs in one program and with one machine. Many decorators are taking advantage of this by expanding their offering beyond straightforward needle and thread embroidery. Successful embroiderers are doing this while maintaining the quality and consistency required by their customers.
With multimedia designs, customers get a more personalized look and are willing to pay more money for garments with additional Chenille, Sequin, Laser Applique and more. Let's take a closer look at how your software and embroidery machine can help you navigate these decoration methods.
One area of apparel decoration that has shown a lot of innovation and growth is sequin. Traditionally, markets for sequin designs were mainly found in certain pockets around the world. Recently, however, interest has grown and software and equipment manufacturers around the world have become increasingly focused.
Creating sequin designs with professional embroidery software and machine attachments has never been easier. Sequin tools within your software will allow you to digitize for sequin as easily as you would for a running stitch or fill stitch.
Apparel decoration software is constantly making the sequin experience much more user friendly by implementing features to speed up the process and to improve sequin design quality.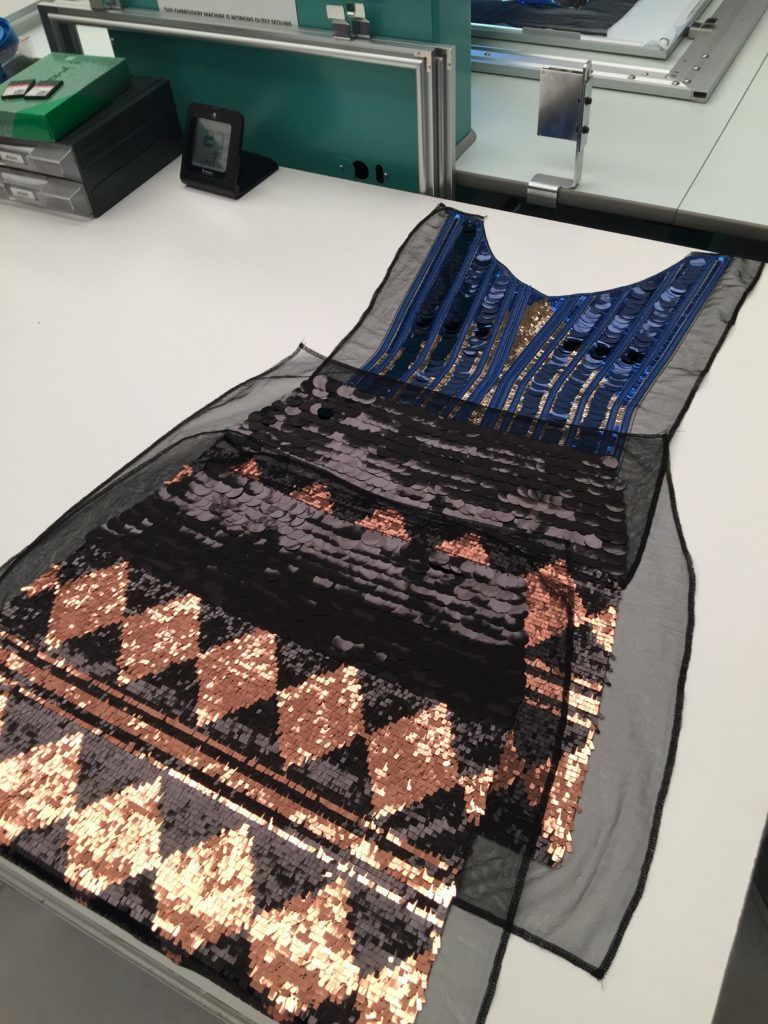 Most embroidery software offers chenille functionality as an option. A specific machine attachment is required. With chenille software, you can apply Lattice, Spiro, Moss or Chain Walk to any segment and quickly transform original artwork into creative Chenille embroidery. Using wool, cotton or acrylic yarns, chenille creates a unique texture that makes your embroidery stand out from common everyday embroidery designs.
Digitizing software will often include a variety of fonts specifically and expertly digitized for chenille lettering to ensure premium quality for any text personalizations.
Laser appliqué can be used to create complex designs in less time and with great accuracy. Whether you need intricate patches, complex appliques in multiple colors or small lettering, your embroidery software and laser attachment will ensure that the design is completed correctly. Using laser appliqué, your design will be sewn by the machine, after which the laser attachment will accurately cut the appliqué fabric without affecting the base garment. This will result in an interesting layered effect.
You can use an appliqué fabric setting in your software to simulate the effect of having real fabric in the segment by using the fabric images supplied with your software or by importing you own images.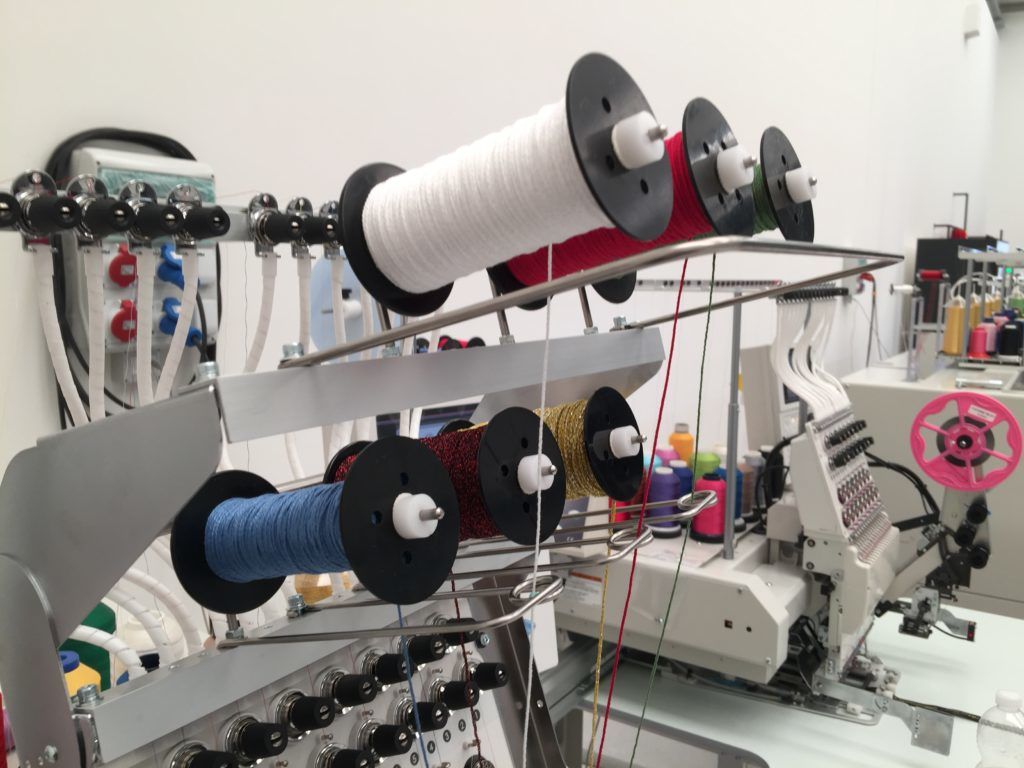 Coiling, taping and cording
Coiling, taping and cording designs can be created easily from outline segments if the proper software and machine attachments are in place.
Coiling is a method to display three alternating threads by winding two kinds of coiling threads around a core thread. This technique can be applied at different intervals to create unique looks and textures. An embroidery thread, core thread and coiling thread are sewn together using a machine attachment. Your embroidery machine head twists the upper thread and lower fiber or yarn together to create the unique coiling stitch.
A taping effect is achieved when fabric tape or yarn is attached to fabric using a machine attachment. This creates a new and stunning type of embellishment. There are various attachments that can be selected to be able to deal with a wide array of materials.
Cording is exactly as it sounds. A rope-like stitch is created that gives a unique look and feel. Cording requires a specific attachment and the machine commands are defined from inside your embroidery software.
Decorative beads are rapidly becoming very popular. Users with a bead machine attachment and software option will be able to create expressive and textured designs by placing beads in a variety of styles and positions. As far as your software goes, bead functionality will be familiar to those who already work with Sequin tools, as it sets up very similarly.
If you have been contemplating getting into other design media, now is the time to investigate further. Software enhancements make it easier than ever before to create beautiful, high quality multimedia garments. Ask your embroidery software and equipment provider about multimedia design and how to smooth the way to creative, consistent and top-quality results!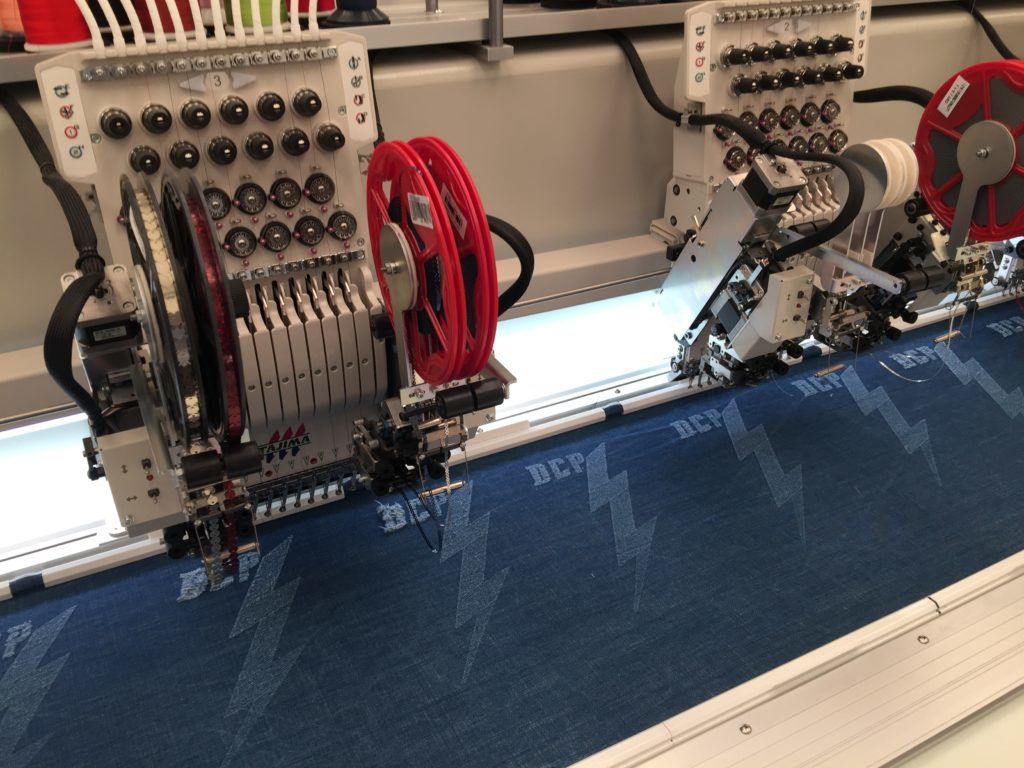 Jamie Kiekebelt: Sr. Marketing Manager, Commercial and Automation Software at Pulse Microsystems Ltd.
Stitch & Print International appears four times a year. In addition free digital EMagazines and newsletters are published. The trade journal is written for professional embroiderers, textile printers (screen printers and digital printers) and garment decorators.
Stitch & Print International appears four times a year in print. In addition free digital EMagazines and newsletters are published.
Follow us on social media
for daily updates