Considerations before purchasing an embroidery machine
The purchase of an embroidery machine with the appropriate accessories, digitizing software and associated training can quickly become a very time-consuming and expensive affair. It is therefore advisable to obtain thorough information and advice in advance. But where do you start? In this article, Reiner Knochel offers you tips for the start of your embroidery company and the purchase of the right embroidery machine and software.  
Especially in my work as a freelancer in the textile and embroidery industry, I often meet companies or individuals who proudly report that they want to enter the embroidery business professionally. Without any experience in the field, everyday life quickly catches up, and initial euphoria quickly turns into frustration. It takes months or even years to become an experienced embroiderer and puncher. Therefore, my advice to the many inexperienced prospective customers would be to have their embroidery orders implemented by a professional in the beginning. Simultaneously, of course, you can then – bit by bit – work on building up your own embroidery company.
Which machine to buy? Will a household machine do for the desired purpose? Will I need a semi-professional machine or a "real" industrial machine? The choice is not straightforward, as household machines and industrial machines today are meeting each other halfway. On the one hand, the quality and variety of household machines is constantly increasing, while at the same time the industry has also reacted to the changing demands of the target groups and is increasingly offering entry-level models that are smaller, lighter and easier to operate. Prices are also converging. Expensive and sophisticated household models quickly reach price ranges that match entry-level models from the industry.
It is therefore crucial to find out as much as possible beforehand. In addition to Internet tutorials and application videos, trade magazines provide a good overview. It would be even better to experience the machines live. At the biennial trade fairs TecStyle Visions in Stuttgart or Texprocess in Frankfurt am Main all the well-known dealers and distributors of embroidery machines, accessories and software present their innovations.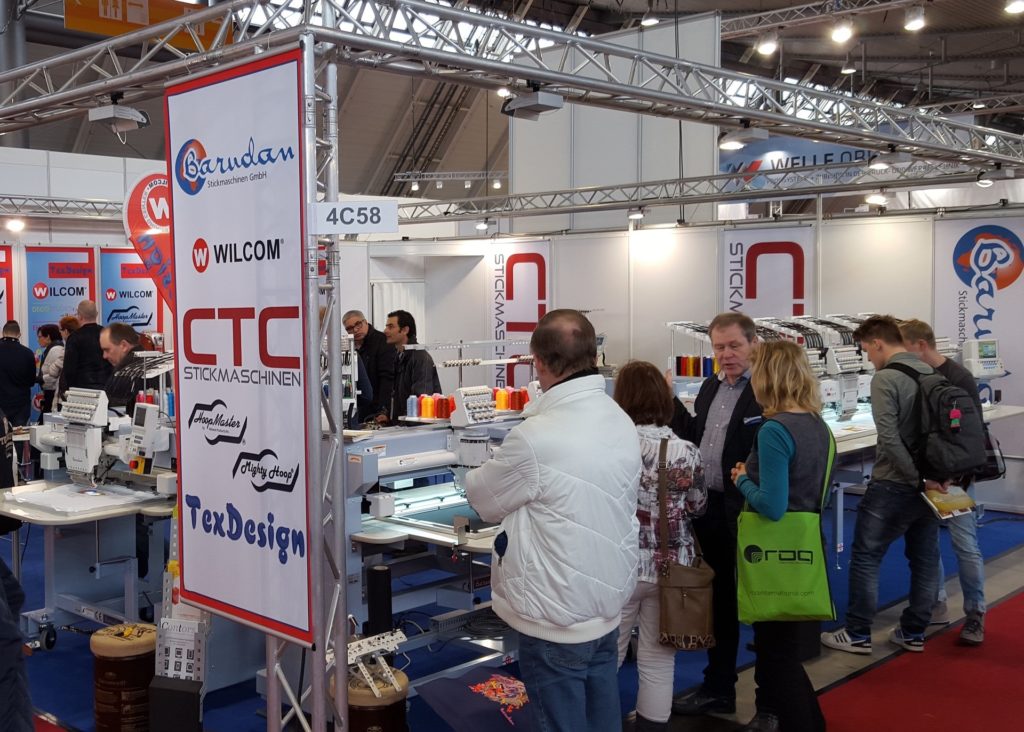 Watching machines live in action will allow you to get a good impression. Ideally, you will visit a trade show or in-house exhibition prepared and will have collected information through other media or through discussions with professional colleagues. If you have the opportunity, make sure you attend such events on multiple days. What you see the first day will raise new questions that you can get clarified on the second day. This way, you are sure to get well informed to be able to make the decisions that are right for you.
At the shows you will be able to see how smoothly a machine runs and at what embroidery speed. How does the changing of upper thread and under thread work? Is the thread tension controlled manually or by computer? Which frames will I need? Will I have to get magnetic frames for my machines? Is the display on the machine intelligible to me?
Many questions will be answered by observing the machines and, above all, by talking to the sales and technical teams on site. During the shows and events, techniques and features are presented that you didn't know existed. These will then raise new questions, like which special features such as sequin or cording devices should be purchased in addition.
Fortunately, with many brands and models today it is possible to buy a basic model that can gradually be expanded with additional special features. To avoid disappointment, however, be sure to find out which options there are before buying a machine.
Similarly, it is important to make sure that you get a demonstration of the digitizing software that you can use for the machine and that you compare different brands.
When it comes to digitizing/punching, beginners should ask themselves whether it is not more reasonable, especially in the first few months, to entrust an external professional with this important and decisive task. Simple designs and fonts can certainly be implemented quickly, but for more sophisticated work it is advisable to let professionals do the work.
Getting to know the machine and gaining embroidery experience takes a lot of time and patience. It is therefore advisable that you leave the punching until you take a future step.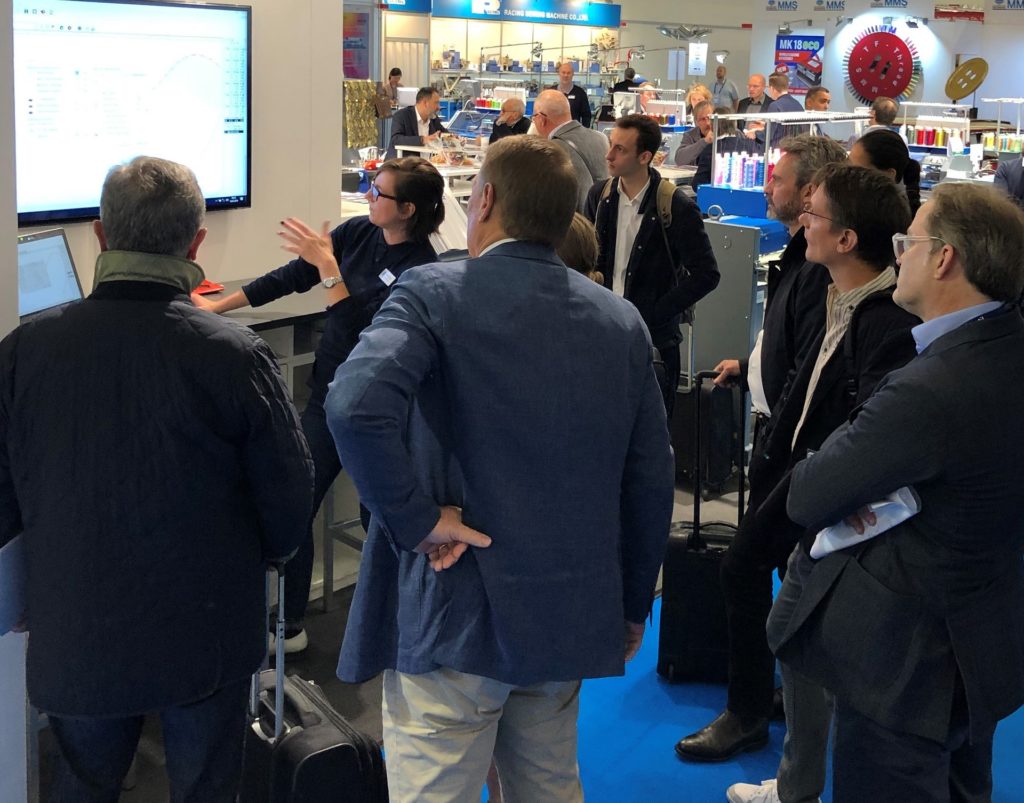 Other aspects that you should clarify before buying an embroidery machine and digitizing software are which services are included in the purchase of the machine. Is the machine only delivered or also mounted and set up? In which form and with what duration does an introduction and training take place? Is this done on site? Are these services included or do they have to be booked in advance and paid for separately? These questions do not only apply to the machine, but to the software as well.
What is of great importance is that you find out where you can get help if further questions arise, because this is sure to happen very soon! Are there helpful online tutorials or telephone consultations and is there a person you can contact directly? Where is the nearest technician located, how fast can he be on site and does he speak your language? Be sure also to ask which services are covered by the warranty, which service is included and which maintenance is recommended when and at what cost.
Since the two-year cycle of TecStyle Visions show and Texprocess is too long for some companies, more and more dealers are also inviting customers to in-house trade fairs at their own companies. Some companies also organize so-called roadshows, where they travel from place to place with embroidery machines in their trucks in order to be able to reach and inform potential customers. Information on the in-house trade fairs and roadshows can be found in the trade press or on the websites of the various embroidery machine dealers and manufacturers.
For both embroidery and punching, it is advisable to acquire expertise through hands-on seminars. These seminars are often held by professionals who have gained embroidery or punching experience over a long period. Akademie für Textilveredelung Aka-Tex offers such specialist events. Here, for beginners as well as experienced professionals, there is always something new to learn and experience to be gained on various topics.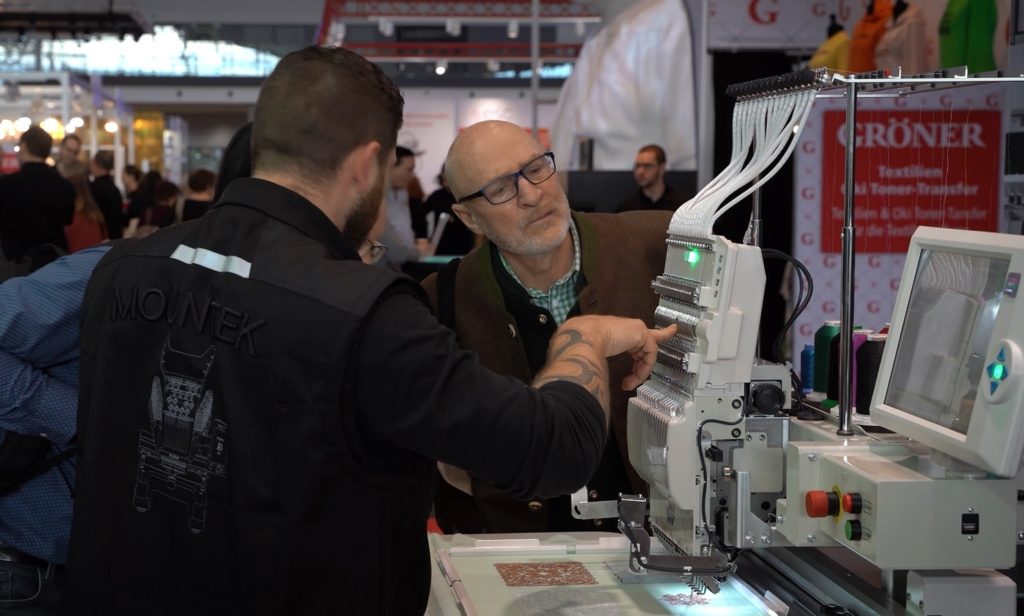 Presentation of a ZSK embroidery machine with sequin device. Photo: ZSK, www.zsk.de
Stitch & Print International appears four times a year. In addition free digital EMagazines and newsletters are published. The trade journal is written for professional embroiderers, textile printers (screen printers and digital printers) and garment decorators.
Stitch & Print International appears four times a year in print. In addition free digital EMagazines and newsletters are published.
Follow us on social media
for daily updates